From The Road
Written by Administrator
Sunday, 14 April 2013 00:00
Click on images to enlarge.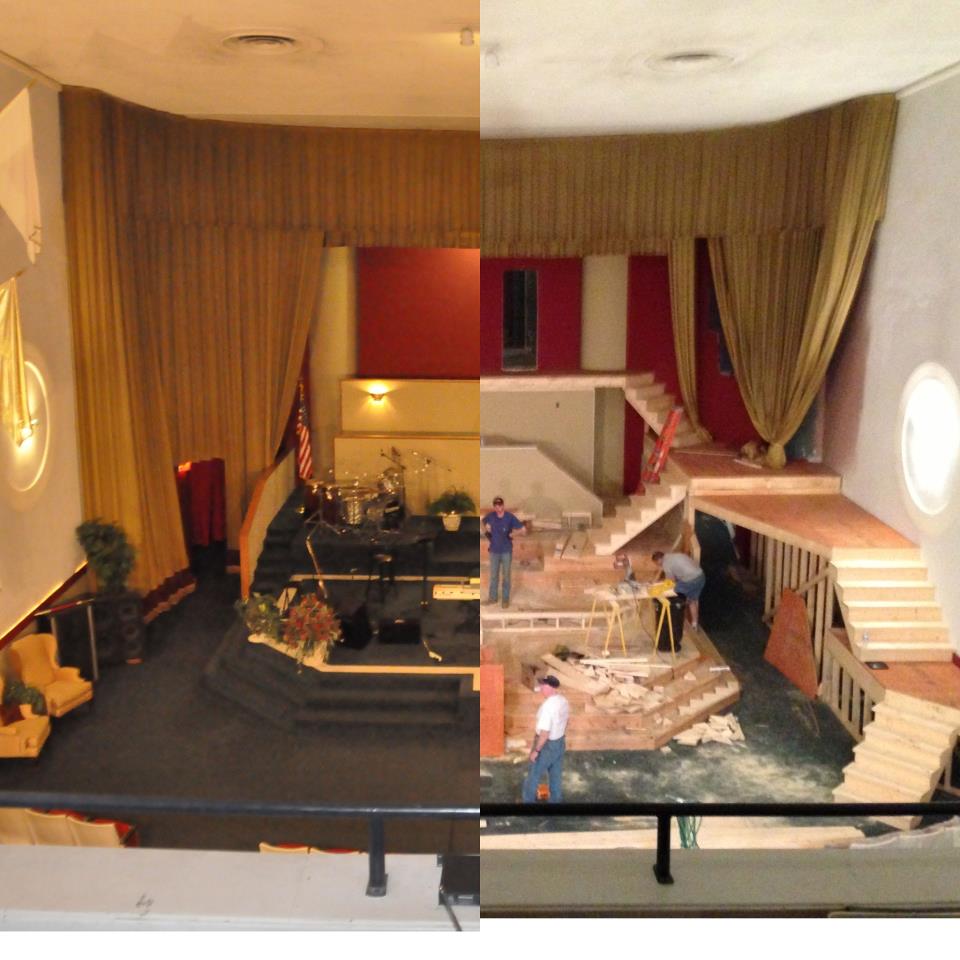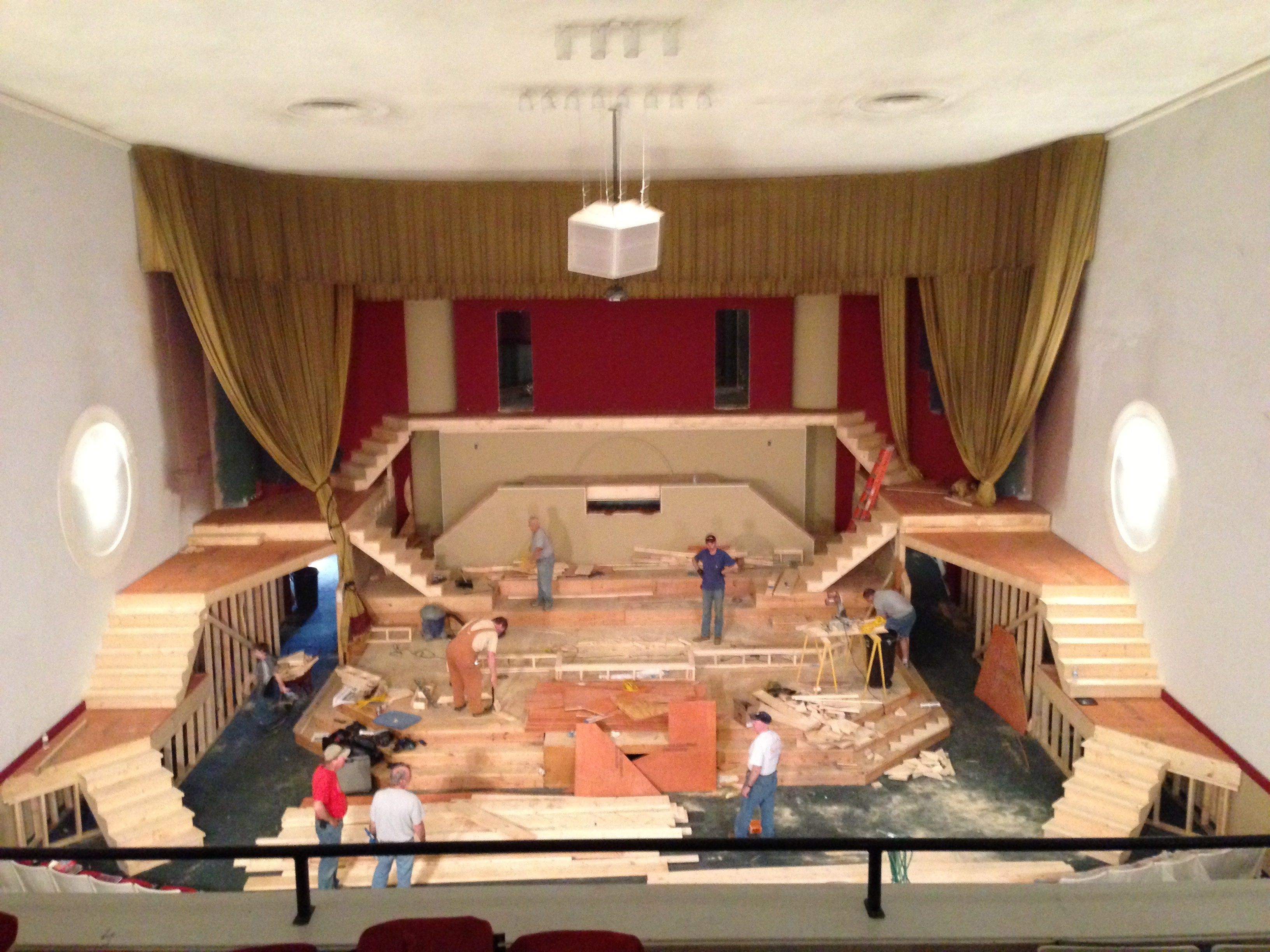 Hey Friends,

Just wanted to give an update on where we are in the renovations and the move to Broad Street. We are indebted to a lot of folks who have come down and given of their time and talents. It is pretty amazing to see how fast things are changing. The theatre is definitely not the same building as it was before.

First of all, we want to give a great deal of thanks to our brothers from Boone Trail Builders who came and worked to get our stage done. They finished the work in 3 days. It was amazing to see how fast they put everything together. They are a wonderful group of men that not only built the stage, but encouraged us at what we are attempting to do. I wish we had more time to fellowship. They represent our Savior well.

We want to thank Scott Elrod for his painting skills and Scott Litteral for taking on all the plumbing updates. Thanks to Jimmy and Dub Phillips who are working on a custom-designed concession's counter for the upper mezzanine. We can't wait to see the finished product in May.

Our lighting system is being installed by Ed Ritsco/Johnson City Heating and Air and Mac Williams Electric. These guys will be working hard to bring light to our stage. Pray for their safety as they dangle in heights unknown. Ed has been a blessing in the midst of this whole process. Pray that God blesses his business.

Joey Strickler and Marty Polson have been a huge help in the set construction. They have been very patient in deciphering what I have in my mind and on paper. The final product is pretty amazing. They have been assisted in construction by Tommy Martin, Larry McClure, and Richard Durand.

Thanks to Rick and Tyler with McMullins Well Pump Service, we have new flush valves and toilets that will be in top working condition. Tyler has outdone himself as the overseer of all the contractors.

Jacob has done an excellent job at supervising all general labor volunteers. Vickie Collea has helped with detailed clean-up of painters. Mary and Larry McClure have rearranged the kitchen to allow more space for a make-up/green room. Steve Pate has acted as our controlled demolition man and has opened up the original concessions area as well as access to the stage.

A special thanks goes out to Michael Brown with B&B Electric and Mike Johnson with Holston Glass for working on reopening the marquee. Most everything still works on the marquee. We are having to work on the chase system, replace bulbs, and restore the broken glass panels.

We had workers pull up old flooring in the mezzanine bathrooms and concessions area to find the original floors still in tack. Jimmy Edwards from Service Master Cleaning will be stripping and polishing the vintage floors. Brad Warner from DPM, Inc. came by and is working on an estimate for our carpeting. They are trying to find ways to save us money on the aisle and office carpeting. We are so grateful to have these people helping us.

Brent Terry of Brent's Model T's has offered to help in completing the downstairs concessions area. We are in the process of working out the final designs on the rooms based on the size of the equipment we will be using.
We had our first set back. We were hoping to get into the theatre before having to replace the HVAC, but we aren't sure that the existing system is efficient for large crowds. We will be fine until hot weather sets in. We got our first estimate and it will cost about $47,000 to replace everything. We are currently working on reducing this by looking into donated equipment. We need 4 – ten ton units that are about $10,000 each. "It is what it is." We believe that God will lead us to the right people that can make this happen. If you know of anyone that might have "scratch and dent" or even used equipment that might get us through, please contact the office. Pray for Tom Vicars and Ed Ritsco as they search out possibilities.

We are in need of more sponsors for chairs. We have about 250 sponsored and are short about 275. If you know of anyone who might be interested in sponsoring a vintage chair in memory, or in honor of someone, please contact our office. Some companies and organizations are buying them for advertising as well.

We are praying for corporate and/or individual sponsors who might be interested in partnering with us to help us complete the renovations. We are in need of funding for our larger projects HVAC ($47,000), the sound equipment ($15,000), and remainder seating ($27,000). We would offer permanent advertising to companies, or individuals who are willing to partner with us. We know that God owns it all and has provided everything that we have needed thus far. He will complete what He has started.

We are on target for our Grand Opening on May 28th. So far, everything is paid for and we are on schedule. Please be in prayer for us as we continue in this process. We are still in need of a few skilled carpenters to finish some small projects. If you or your group are interested in being a part of the renovations, please contact us through the office. We have had a great time of fellowship and incredible blessings as we have worked together for the common cause.

Please follow the updates so you will be informed of the progress we are making. We will be posting our needs as we move through this adventure as well. Thanks again for your generosity and encouragement during this time. We need your prayers and support as we go forward in completing the task at hand.

God Bless,
Billy Wayne

Last Updated on Thursday, 18 April 2013 07:06
Written by Administrator

Wednesday, 27 March 2013 14:24

A new day has begun! I would like to take this opportunity to let you know where we stand with the renovations on the new theatre downtown Kingsport. We had several folks help with the purchase prior to the closing that we would like to recognize. Scott Litteral and Bob Alley did a thorough building inspection for us free of charge. Our Venture Director Cindy Martin assisted with getting everything together for closing. Our attorney Carl McInturff provided us with a discount on the closing fees. Our financing was done courtesy of a private investor that we wish to thank tremendously. This could not have happened so quickly had we been required to go through a bank.

Since closing, we have had the following donations made: the upstairs concessions booth is being completed by Jimmy & "Dub" Phillips, the plumbing is being done by Scott Litteral & Rick McMullins, the electrical required for the stage lighting is be completed by Ed Ritsco of Johnson City HVAC and Mac Electric, the marquee electricity is be taken care of by Michael Brown, the new stage is being constructed by Boone Trail Builders, the interior and exterior painting is being provided by Scott Elrod, and the carpeting installation will be done by Pat Barr. We wish to thank all of these talented individuals and businesses for their labor and their support.

The following is a list of further needs: temporary walls for upstairs office, transformation of area backstage into dressing rooms, kitchenette, and make-up room.

We need the following materials as soon as possible: Plumbing – 3 fast flush toilets, 1 urinal, 3 flush valves, and 3 pedestal sinks and faucets. Marquee – wiring, bulbs, and removal of drive-it stucco. Paint – 55 gallons, paint brushes and drop cloths. Carpeting – Aisles and Offices, aisle lighting. Motorized Screen. Chairs – still need about 200 chairs (please help us to sell these in honor of or memory of a loved one.)

We also need additional sound and lighting equipment due to the size of the auditorium.

Our total estimated cost for renovation materials without the chairs is $46,000. We are in need of these funds as soon as possible to meet our desired timeline. If you can provide funds or materials, please let us know. If you are unable to do so, please pray for these needs to be met.

Volunteers are needed for many of these tasks and for clean up for the work crews. If you can volunteer to help us with this, please call the office at (423) 245-1551 and let us know your availability.

Thank you for taking this journey with us. We are excited to see what God accomplishes through the obedience of His children.

Blessings,
Billy Wayne
Phil. 1:6

Written by Administrator

Sunday, 18 November 2012 07:22

Dear Friends,

What can I say?  The last month has been an adventure in uncharted waters.  Who would think the loss of your father would change your life so much?

I want to take the opportunity to thank everyone for the overwhelming support that my family and I received during the loss of my dad.  Combined visitation at the theatre and the funeral home brought over 2,000 people our way.  I realize what it means to be a part of a bigger family…the Family of God.

There is no way I could ever thank you individually for all that you said and did during the last month.  From cards, e-mails, facebook comments, and phone calls, I have never felt so loved and supported.  God used each of you to minister to my heart as well as my family.

The past few days, I attempted the thank-you cards.  I know that I missed people in the midst of it all.  Lois, my stepmother, and Andrea, my step-sister, tried to help with the correspondence.  I am also grateful for Nonna who helped me with the lists and lists of people to thank.

Please accept my apology if you do not receive a personal thank-you card or an acknowledgement for all that you might have done.  None of us were prepared for the generous response that you gave during this difficult time.

I am just now starting to digest all that has taken place.  I am finally allowing myself time to think about our loss.  We have been so busy taking care of necessary arrangements and continuing to honor our ministry commitments.  That is something that my dad would have been insistent about.

Looking back, I am amazed at the GRACE that God gives in our time of need.  In growing up, God gave a great deal of grace to grow up in a home with an alcoholic father.  God extended grace when my father gave his life to Jesus.  God poured out his grace on both my dad and me when we both learned how to forgive.  God used my dad to extend grace to me by calling my dad to be a part of my ministry.  God enveloped me with grace when He took my dad home to be with Him.  He now helps me walk in grace as I am left here to continue sharing Jesus until I see my dad again.

Who would ever think that your ENEMY could become your HERO?  That was how it was with my dad.  I am so amazed at what God can do in situations that make no sense.  I am honored that God allowed me to grow up the way that I did. I have no regrets.  I know that difficult situations have made me who I am.  I am a better person for enduring what God entrusted.  I know that what God has comforted me with, He expects me to comfort others the same.

I felt growing up that God gave me the worst father in the world.  Boy, was I wrong.  I was given the greatest father anyone could have ever asked for.  We spent the last 15 years not only being great friends, but learning how to be father and son.  I have loved every minute of it and would not change one thing…well, maybe one thing: a little more time on my end just listening to his voice…

I do have a promise of seeing my dad again and so do you.  For those of us who know Jesus as our Savior, we will all be together again forever.  Until then, there is much work to be done so others can go there too. That's what dad wanted.

Thanks again for all of your support.  Words could never express my gratitude for all you have done.  Let's just keep being faithful to God's work and win people for the Kingdom…

I love you all,

Billy Wayne

| | | | |
| --- | --- | --- | --- |
| Theatre Update - Downtown Here We Come! | | | |

Written by Administrator

Sunday, 18 November 2012 07:22




Theatre Update
March 7, 2013
"The Time Has Come"




Hallelujah!!!! Look out Broad Street, here we come. We will be closing on the Strand Theatre (Restoration Fellowship Church) on Friday, March 8, 2013 at 11a.m. Our new location will be 140 Broad Street in downtown Kingsport.
This has been a year and a half journey. Many of you have walked every step of the way with us. It has been like a roller coaster, but we have finally reached our destination by God's grace and His perfect timing.
Even though we will own the building on March 8, 2013, Restoration Fellowship Church will continue meeting at the Strand Theatre until the first week in April. Their last service there should be Easter Sunday. At that time, we will start the transformation process.
Between now and April, we will be cleaning and working on areas of the building that the church is not using. We will be preparing for the renovations including:

- Restoring the marquee on the front of the building
- Restoring the ticket booth and adding an additional ticket booth
- New Carpeting and aisle lighting
- Replace existing lighting fixtures
- Improve plumbing and replace some bathroom fixtures
- Re-open the concession booths
- Painting the interior
- Artistic painting and vintage design work
- Install theatrical lighting
- Installing new sound system
- Installing vintage seating
- Expand the staging area
- Create gift shop area
- Refurbish office spaces
- Create make-up area and dressing room space
- Create storage space for props and some costuming
- Address and eventually upgrade the HVAC (It is working, but is very old)

While this may sound like a lot, we have teams and individuals that have already looked at the different projects. Their estimated time of completion for the individual projects is less than 2 weeks. Most of this work is simple or aesthetic. The existing church has done an excellent job in maintaining the building over the years. Most of what we will be doing is restorative and cosmetic.
Yes, we will need help. We will be having a VISION meeting at the Strand Theatre location in the next 2 to 3 weeks to allow the community and our theatre family to see the vision we have for renovations. We are currently working on designs and logistics. Our goal is to let the public know how they can help toward the renovations.
Originally, we thought we could not move without the sale of our property. When our buyer fell through, we were a little disappointed. Thanks to the encouragement of our theatre family, we pushed forward. Through prayer and determination from our folks, we met the budget to move.
We want to thank those who have made pledges toward the relocation. We have met our minimum goal of around $5,000 per month that will include the mortgage, utilities, and insurance.
Our current theatre location in Fall Branch is for sale. It includes a 4,500 sq. ft home with 6 bedrooms, 3 full baths, 2 half baths, sunroom, and studio. There is a 10,000 sq. ft. theatre/500 seat capacity with office spaces and dressing rooms. An additional 3,600 sq. ft. storage building is also on the 14 acre property. This would be a great location for a retreat or camp. It would also be a beautiful setting for a mountain music entertainment venue. If you know of anyone interested, please call our offices or Country Charm Realty at (423) 612-2634.
We are thankful to have our current location in this transition period. If we end up keeping the property, we will be looking into ways to utilize it for other ministry opportunities. Right now it houses our interns and will continue to be used for our rehearsal space and storage for props and sets. This is much needed since we do not have that kind of space at the Broad Street location.
In the transitioning, we will continue raising funds for our renovations. Through donations toward Have-a-Seat Campaign, we have raised half of the funds toward 500 seats. The seats are $100 each and we have paid for 250 so far. We still have 250 unsponsored. If you or someone you know would like to purchase a seat in honor or in memory of someone, this is the time to purchase a chair. You can do this online by clicking here or by calling the office at (423) 245-1551. The remainder is due by the final installation date which should be in April. The vintage seats are being refurbished by a company out of Nashville. They are custom-designed to meet our specs and décor. Thanks again for all who have purchased seats thus far.
We will be looking at carpets and flooring to replace the existing carpet. We do have an installer that has offered his services to help get this done.
We have to install a new sound system. Restoration Church will need to take their system with them. We will be able to use some of the equipment we already have, but the design of the Strand including the balcony area requires additional equipment.
The marquee and ticket booth will be re-opened. We don't know exactly what work will have to be done on the marquee until we remove the "drive-it" (stucco) from around it. We hope this will be a simple process. If it meets city approval, we want to add an additional ticket booth under the marquee to help handle "will call" reservations.
The HVAC is operating, but is very old. Some of the units need to be replaced. We do have someone who will be looking into the cost of replacing those units. This is something that can be addressed later since the HVAC is in working condition.
As mentioned in the above list, there are many other things that will need to be done over a short amount of time. It is our goal to have the renovations done by the end of May. Our goal is to have a "Grand Opening" the weekend of May 31st. This will depend entirely upon the renovation process and timing. Again, most all of our contractors have told us that their jobs will take less than 2 weeks. We will be relying on many volunteers for clean-up and odd jobs for us to stay on schedule for our target date.
We will be making an announcement on the date for the VISION meeting at the Strand sometime next week. We want to make sure that we have as much information as we can to share with those who attend. We are going to need a lot of support and prayers as we move forward.
We are excited about what this will do for our ministry and for the downtown Kingsport area. We are looking forward to establishing great relationships with the businesses and organizations. We know that this will bring a great deal of patronage for businesses and companies in the surrounding area as well. Currently, at any given time, we are working with 100+ volunteers not including the patrons to our theatre. We are excited about bringing our folks to downtown.
Our ministry seeks to be salt and light to the community. We are ready to bring quality entertainment to Kingsport and a message of hope for the hurting. We strive to show others the importance of a personal relationship with Jesus and not just being another "religious" group. We are real people with a real message.
This is truly a dream (vision) come true. I have had it on my heart since I was a young student to have a Family Christian Theatre on Broad Street. God has burned that passion on my heart for years. After leaving and going away to college, working in professional theatre, and traveling for over 30 years, the time has come. I am humbly convinced that with a tiny seed of faith in an incredible God that dreams still do come true.

In Him,
Billy Wayne
Phil. 1:6

Last Updated on Thursday, 07 March 2013 08:19

Written by Administrator

Monday, 01 October 2012 15:29

 

Relocate and Renovate Update
October 1, 2012

 

Dear Friends,

Thank you so much for your patience in this whole process of relocating to downtown Kingsport.  While it has been a journey, we still believe that God is working the details out for all involved.  We firmly believe that this is a God thing and we are learning to be faithful in "the waiting."

As of October 1, we found out that Celebrating Freedom (Branch House) has not been able to secure the finances to purchase our property at 441 Horton Hwy in Fall Branch.  Their contract deadline was September 30.

I did talk with Roger Morrell, the visionary for Branch House, before he left on his mission trip to Belize.  He told me that he felt God really wanted them to be at the location in Fall Branch, but they were struggling with securing the finances.  He said he believed he really heard from God and was still trusting.

At this point, they have not asked for an extension on the contract.  They have asked us to go ahead and put the property back on the market.  As of today, our current theatre property at Fall Branch is for sale.

We have turned some other potential buyers away the last couple of months.  We will be contacted them and letting them know that the property is available once again.  If you would like to pass the word that the property is up for sale once again, we would appreciate it.  The facilities include:

LampLight Theatre:  a 10,000 sq.ft. building with additional outdoor concession stands

House/ Office:  a 4,500 sq. ft. ranch house (2 full kitchens, 3 full baths, 2 half Baths, 2 dining rooms, 2 living rooms, 2 sunrooms, 6 bedrooms, Studio/den. 2 wash rooms.

A Wardrobe/ Shop: 2,400 sq. ft. Storage/garage/ shop out building (2 levels)

14 acres of land

**The last appraisal was $500,000

It was our hope that Branch House would become a reality in Fall Branch.  We would love to see another ministry get the property and continue Kingdom work. If you are interested in knowing more about their vision, please call our office and we will get you in contact with them.

We are still in a purchase contract agreement with Restoration Fellowship Church.  Our deadline is October 31.  In order for us to purchase their property, we have to sell ours.  Please be in prayer over the next couple of weeks as we pray for God's timing in this situation.

We believe God wants us in downtown Kingsport.  We are just waiting for His timing.  We do believe that God is working all these circumstances for the good of those who are involved.  We are all in agreement that God is up to something great.  We are just waiting for his provision and timing.

We will keep you posted as we learn details.  Thanks again for your prayers and support.  Please pray for Branch House and Restoration Fellowship Church as well.

Still Believing,

Billy Wayne

 

 

Last Updated on Monday, 01 October 2012 15:30
<<

Start

<

Prev

1

2 3 4 5 Next > End >>


Page 1 of 5